Most Important Questions Answers for Students prepared by our Team Which has been designed keeping in mind the patterns of various major competitive tests.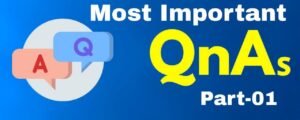 these current affairs covered the topics as national and international importance, Indian Polity, Business, Economy, Science and Technology, Geography, Art and Culture, Environment and Ecology, etc.
These Most Important Questions Answers for Students SSC, IBPS, Banking, Railways, Various Entrance Tests, Both For Central Government and State Level exams.
Most Important Questions Answers
When is Indian Navy Day celebrated every year?
Indian Navy Day is celebrated every year on 4 December. This year's theme is 'Golden Victory Year', which marks 50 years of India's victory in the Indo-Pakistani War of 1971.
The Central Government has refused to consider the 'Paika Rebellion as the first freedom struggle. What year did this happen?
The Paika Rebellion of 1817 took place almost 40 years before the first Sepoy Mutiny of 1857.
It was led by Bakshi Jagabandhu Vidyadhar, the supreme military general of Mukunda Deva II and former holder of the Rodanga estate.
Who has been appointed as the administrator by the Reserve Bank of India (RBI) by dissolving the board of directors of Reliance Capital Limited?
The Reserve Bank of India (RBI) superseded the Board of Directors of Reliance Capital Limited (RCL), a Non-Banking Financial Company (NBFC) in the exercise of its power conferred under section 45 of the RBI Act, 1934.
Which state has won the gold medal in the 40th Indian International Trade Fair?
In the exhibition of 24 states, the pavilion of Bihar state won the gold medal. Along with this, Bihar has also got a gold medal as a partner state.
Who conducted Cyber Drill 2021 from 30th November to 3rd December 2021?
Did?
The International Telecommunication Union (ITU) working under the Ministry of Communications and Department of Telecommunications has conducted a joint Cyber Drill 2021.
To whom has the Ministry of Rural Development signed a Memorandum of Understanding (MoU) to empower local businesses?
Ministry of Rural Development, Government of India, and Flipkart have signed a Memorandum of Understanding (MoU) for Deendayal Antyodaya Yojana- National Rural Livelihoods Mission (DAY-NRLM).
Which state's police was awarded the 'President Rang Puraskar'?
Himachal Pradesh Police has organized the 'Rashtrapati Rang Puraskar' function at the historic Ridge Ground, Shimla. On this occasion, the State Police was presented the 'President Rang Puraskar'.